Acid Staining Concrete
Acid Staining Concrete

|

Eco Stain

Click on the images below to view a larger display.


Photo 82

Photo 83

Photo 84

Photo 85

Photo 86

Photo 87
Innovative Way to "GO GREEN!"
Interior flooring has traditionally consisted of carpet, tile & vinyl. However, because of concretes porous qualities acid staining has become the perfect design system for NEW & EXISTING Interior and Exterior flooring. If the existing surface damage, such as glue, stains, mortar, etc… can't be removed after the prepping process, DON'T WORRY! The cementitious overlay toppings applied will create a new canvas (surface) so, to achieve the natural, marbleized, or earthtone colors desired.


Chem Stain (Acid)-
This permanent solution is a deep penetrating mixture of acid-soluble metallic salts, water, and hydrochloric acid. Once this solution is applied and worked into the pores of the concrete surface the chemicals instantly react, penetrate, and becomes a permanent part of the concrete &/or overlay materials. Please, note; the end result of color will have a various array of earthtones & intensity. This is what makes Chem Staining so unique & popular in Homes, Malls, Restaurants, Churches, and Offices around the world. No, grout lines….No, scrubbing of carpet stains…..No, smell…..No, fleas or other time consuming cleaning issues. With normal cleaning and applying a wax topping (ask us where to purchase) will protect and prolong the life of your new floor.


Eco-Stain –
Unlike reactive acid (Chem) staining this liquid material works in a very similar way. The difference is there is no chemical reaction that takes place when applied, but Eco staining does penetrate the porosity of the concrete or overlay materials. The benefit is, this helps to eliminate the waiting period for colors to reach its full potential. Eco staining can be built up in color for more variation &/or intensity. There is no rinsing, mopping or residue to clean. Depending on the size of the project we can color and seal the same day. Very popular with General Contractor's.

WHO HAS THE TIME!?!.... Personally, the cleaning couldn't be any easier!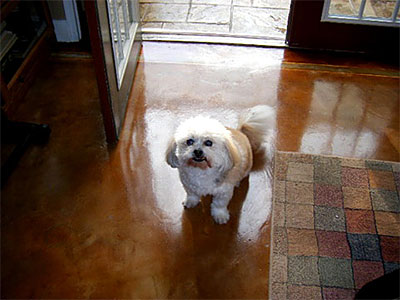 Pet Friendly Flooring - Chem (Acid) & Eco Stained Designing.

A - Resist Pet Odors and Stains – the sealers used render the surface none poures eliminating the penatration of pet urin, odors and stains.

B - Maintenance is so easy – cleaning up after your pet that has played in the rain, dirt, mud, or pool is simply a breeze. By using a wet mop, shark steam mop, towels, broom, or a house hold mild clearer will take your floor to a sanatary place leaving no orders behind beside a clean smell.

C - Pet Hair, Dander, Fleas or Mites – if your pet tends to shed or has issues with fleas or other pet dander having a chem or eco stained concrete floor elimates the penitation of these pet carring hitchhickers unlike carpeting that will trap these peskey problems into the fibers making it very difficult to get under control.

D - Building – Going Green - is becoming the popular choice of the future – Chem (Acid) staining or eco staining does not emit volatile componds as carpet adhesives, padding, as well as some glues/adhesives used under tile, vinyl sheet & linoleum flooring materials. The chem stains have nontoxic pigents and do not release volatile organic componds.

E - Energy Bills – since heat rises know that during the summer months the concrete or overlayment chem stain flooring will stay cooler which will allow your pet to enjoy is lounging time confortably.

F - Scratch Resistant – pets claws can be a concern with any new flooring. However, with regular cleaning and waxing helps build additional protection to your chem stained floor.

Visit our "color charts" for design ideas. No project is ever the same.
We look forward to hearing from you.