Concrete Staining Temple Terrace, FL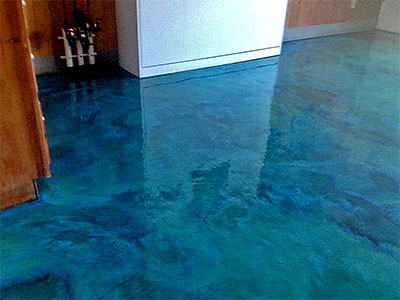 At Impressions Decorative Concrete, Inc., we create awesome floors that clients and their guests will surely be amazed looking at. But unlike other companies that will insist on using pricey materials such as natural stones, we offer affordable alternatives with almost the same aesthetic benefits as their more expensive counterparts. One such option is concrete staining.

With this exciting decorative technique, we can turn ordinary concrete into the perfect material for standout interior and exterior floors. In fact, we have already finished hundreds of concrete staining projects for clients in select Florida areas, including Temple Terrace, Land O' Lakes, Lutz, and Town 'N' Country. So why pay more when you have this awesome, affordable alternative?


Results-oriented, Tested Staining Methods
While concrete staining may be a fast-rising popular decorative technique among DIY homeowners and general contractors in Temple Terrace, FL, not everyone can claim to practice trailblazing techniques. At Impressions Decorative Concrete, Inc. we are absolutely proud of our proven and effective methods of staining concrete surfaces. Among the two methods that we have tried and tested to be highly effective are chemical stain and eco-stain.


Eco-Stain. This staining method is preferred by many clients because of the relative speed at which the desired colors are achieved. Unlike chemical staining, which takes quite some time to fully develop the targeted colors, Eco-Stain does the job relatively quicker. In fact, the entire surface can be colored and sealed in just one day. This technique also eliminates the need to mop, rinse, and get rid of residues, making it very convenient on the part of the contractor.


Chemical Stain. This technique involves using acid-soluble metallic salts, hydrochloric acid, and water, a mixture that can penetrate deep into the concrete's pores. Clients love it because of the wide range of color intensity, and earth tones are achievable. Whether it is used for existing concrete through overlays or a freshly poured concrete surface, the results are guaranteed to amaze you.


Wide Range of Decorative Effects Possible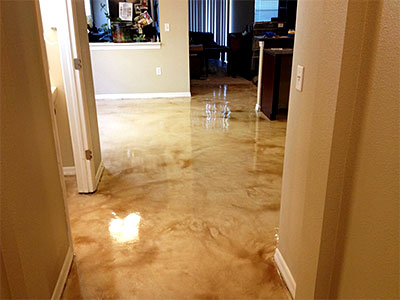 With concrete staining, we can achieve a wide variety of designs, colors, and finishes that you will surely love. For example, we can achieve earth tone colors and marble-like finish if you prefer them. Our crews can also mimic the appearance of brick, slate, bluestone, granite, and other natural stones. You can likewise go for traditional, modern, contemporary, or Old World appeal. It is also highly possible to be imaginative and choose a totally unique design or finish to give guests a hint about your personality and impeccable design taste.

Just let us know how you want your concrete surfaces to look like, and we'll recommend and adopt the best finish and design.


Benefits of Concrete Staining
Many of our past and present clients have discovered that concrete staining offers a lot of outstanding benefits that are too good to ignore. Aside from the ability to resemble the actual look of more expensive materials, the right staining technique can also turn an otherwise ordinary concrete surface into a focal point in any interior or exterior space.


We Serve Commercial and Residential Clients
Impressions Decorative Concrete, Inc. can cater to the needs of residential and commercial clients in Temple Terrace and neighboring Florida cities that we serve. We can cover small areas and expansive ones as well. Just call us right now at (813) 949-6921 so we can begin work on your concrete flooring.