Decorative Concrete Town 'N' Country, FL
Don't look farther if you're looking for a licensed and experienced decorative concrete contractor in Florida. Impressions Decorative Concrete, Inc. has the capabilities and required expertise to work on various concrete improvement projects. In fact, we have been the choice of most property owners in Town 'N' Country, Temple Terrace, Land O' Lakes, Lutz, and surrounding areas. Please call us today so we can discuss the details of your project.


Our Credentials as a Decorative Concrete Contractor
We take pride in our long list of successfully completed projects not only in Town 'N' Country but also in other cities in Florida. Property owners choose us because of our crews' creativity and ability to make properties more attractive and functional. Our crews are properly trained and well experienced in decorative concrete works.

As a family-owned and operated business, we make sure that our clients are fully satisfied with the results of our work. We collaborate with them so that their needs and desires are addressed before and during the project implementation. We carefully choose the decorative concrete method to use by considering important factors such as budget allocation, function and location of the area, and aesthetic needs.


Various Decorative Concrete Methods and Options
We are one of the few contractors in Florida that can work on various decorative concrete methods. Our skills and mastery of the various methods and techniques are honed by our decades of experience in construction, restoration, and maintenance of concrete amenities.

We can work on any of these decorative methods and options: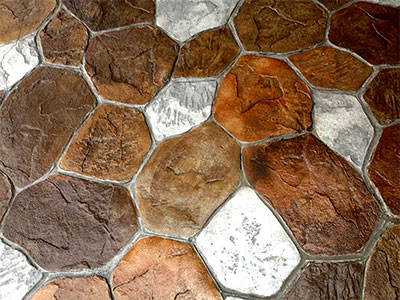 Stamping. Concrete stamping is one of the most cost-effective methods of improving the aesthetic appeal of floor surfaces. You can expect big savings since the materials needed are way cheaper than natural stones. The method also guarantees faster completion compared with using natural stones, which consumes a considerable amount of time. When you opt for this option, you'll be amazed at the wide range of design patterns that we can apply to the floor surface.


Staining. We can easily achieve a marble-like floor finish or mimic other expensive flooring materials with our concrete staining method. The unique color intensity and elegant look of our chemical and eco-stained floors are just some of the factors why a lot of homeowners in Florida choose this decorative concrete method.


Overlays. Floor restoration should never be a costly project. At Impressions Decorative Concrete, Inc., we can help you save money by applying overlays on your old concrete floor surfaces instead of completely removing them. We've already completed a lot of similar projects in Town 'N' Country, FL, so rest assured that we are capable of restoring the integrity and beauty of your floor surfaces.


Coatings. If you want highly durable floor surfaces that are also stunning, concrete coatings are your best options. We can use acrylic or epoxy coatings, depending on the needs and specific functions of the area. This decorative method is best used for high traffic areas, garages, showrooms, kitchens, and other indoor spaces. Coatings are also popular in commercial applications because of their low-maintenance, chemical- and abrasion-resistant, and fade-resistant qualities.


Trust the Experts in Decorative Concrete
Decorative concrete is a highly technical job that must be handled by experienced professionals. You have to make sure that you hire reliable and experienced service providers like us at Impressions Decorative Concrete, Inc. With an impressive portfolio of completed projects and expert crews, you will never regret hiring us. Call us now at (813) 949-6921.